---
LMDS Docker Web Server (N P M P)
LMDS Web Server Stack include:
NGINX v1.21
PHP-FPM (FastCGI) v7.4
MariaDB v10.5
php MyAdmin v5.1
Entire stack can be deployed with one selection from the LMDS menu. System will create or update existing docker-compose.yml file which will be later used to build the Web Server. Scripts will also prepare folder structure for all the components, putting few config files in the right places - these config files can be later adjusted to meet your requirements.
If you not sure what LMDS is or how to deploy it, check this article first LMDS overview
Structure below show only files that matters at the beginning.
volumes
└── WebServ
    ├── mariadb
    │   ├── custom.cnf
    ├── ngnix01
    │   ├── config
    │   │   └── conf.d
    │   │       └── site.conf
    │   └── www
    │       └── html
    │           └── index.php
    ├── php7
    │   ├── config.d
    │   │   └── uploads.ini
    │   └── php.ini
    │       └── php.ini
    └── phpmyadmin
                
You do not have to change any config files after deployment. LMDS WebServer is ready to go immediately after deployment. Put LMDS WebServer IP address in to the browser. If all went ok you should see below in your browser window: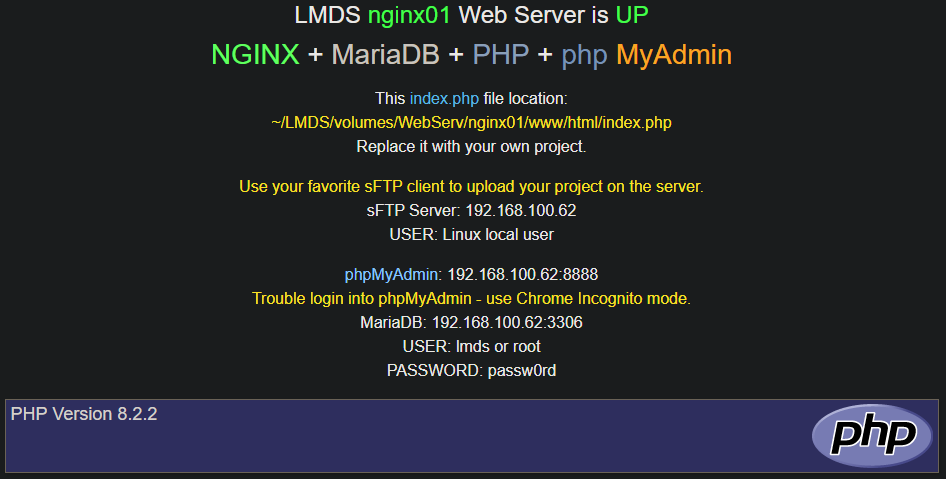 LMDS WebServer is ready to host your project. All what you have to do is to replace ~/LMDS/volumes/WebServ/ngnix01/www/html/index.php with your own files. I suggest you use WinSCP to transfer your initial files.